Wednesday, June 20, 2018
Arrival and coffee 13:30
Info Session: 14:00 – 16:00
Venue: Danscentrum Syd
Click here to register, Free access (reserved for Skåne-based cultural actors)

"The value(s) of cultural networks"
Cultural networks have many roles and impacts. They support and facilitate the circulation of artists as well as works of art (be they past, present or future), bringing them into contact with the broadest audiences possible. Their 'raison d'être' is to inspire, to be inclusive, to test new ideas, to pilot new projects and, to help the culture sector take risks and to meet new challenges.
The role of networks is to connect all these hundreds of thousands of artists and cultural operators, to help them bridge their realities, coordinate their joint efforts and propose formats that allow for experimentation and emergence the generation of new ideas as well as tond act collectively each time it is needed; networks: they advice, they host and they mediate, inside their respective field as well as far beyond – proactively engaging stakeholders from other sectors, decision makers at all levels or players from other continents.
During this session, Elena Polivtseva will present IETM, the international network for contemporary performing arts, but also other networks they collaborate with such as On the Move, Trans Europe Halles, etc. Together with Yohann Floch, Director of the International Resource Office (IRO), Elena will analyse motivations, benefits, results, commitments and, services linked to the participation in professional networks.
Click here to register free for this event.
Elena Polivtseva, Communication and Policy Manager at IETM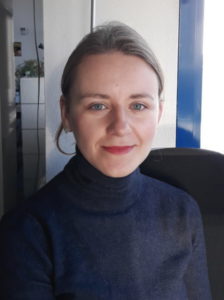 Elena Polivtseva is currently Communication and Policy Manager at IETM, International Network for Contemporary Performing Arts, based in Brussels. This function entails communication with the network's 500 members, external representation, and building relationships with other civil society sectors. She is also responsible for the analysis of the European Union's cultural and other policies, as well as IETM's advocacy strategy and actions at the EU level.
Elena is engaged in communication and advocacy activities of the European Alliance for Culture and the Arts, an initiative of 37 European networks, urging policy-makers to rethink the European approach and include culture and the arts in the long-term strategic goals of the European project. Previously, Elena has worked for several European NGOs and an EU public affaires firm, as well as in the corporate sector, as a communication and policy specialist.
She holds a Bachelor degree in International relations (Tomsk State University), a Master degree in European Studies (Institut d'études européennes, Université libre de Bruxelles) and a diploma in European non-profit advocacy (Institut des Hautes Études des Communications Sociales).
Please note the info session will be held in English.