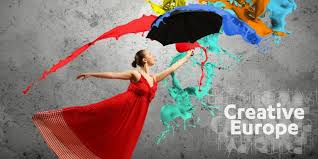 Webinar: Social inclusion
One of the proposed prioritised areas for the new Creative Europe programme is social inclusion. In this webinar we will have a closer look on how you can work with this, from theory as well as in practice.
This webinar is held in English.
SPEAKERS:
Fairooz Tamimi
is a public speaker & award winning author. Sustainability and Diversity & Inclusion specialist. Project Management Professional.
Fairooz works with Global, European and local enterprises and initiatives, on bathe strategic level but also on the implementation level, to utilize the power of innovation, diversity and arts to achieve their sustainability objectives (economical, social and environmental).
Winner of 'Göran Tunhammar's Award for Entrepreneurship by Herbert Felix Institute for 'Openness and Diversity- 2016'. Finalist to H.M. Konung Carl XVI Gustafs pris till Årets Nybyggare 2018.
Pamela Toscano
is an actress, author, director and teacher. She studied at the Dramatic Art School of the Teatro Stabile in Catania, and then followed training courses in Italy and abroad. She has been working as an actress since 1998 directed by leading masters, such as Micha von Hoeche, Peter Stein, E. Nekrosius, Lamberto Puggelli, La Fura dels Baus, Irene Papas, on national and international tours. At the same time she works as assistant director and author (many texts have already been performed.)
Since 2000 she has started teaching in theater workshops in primary and secondary schools, recently also at the Department of Humanities of the University of Catania. The interest in participatory performance, itinerant and sensory paths, intercultural work and inclusion projects with people with disabilities are included within the authorial path. Furthermore, starting from theoretical and practical studies in specific anthropological areas, he has defined a personal research that deals with perception in order to discover intuitive and collective ways of communication. For 8 years he has been collaborating with Cultural Workshops at the University of Catania, Monastero dei Benedettini, for the realization of projects aimed at enhancing the local cultural heritage through site-specific theatrical installations starting from the recovery of memory.
For 7 years he has been working permanently at Zo centro cultures contemporanee, as didactic manager, and organizational manager and tutor of the Note di Colore social inclusion group with people with disabilities, as a trainer in workshops with young people at risk, migrants and women victims of trafficking.